March 4 - Good morning everyone! The first Monday in March has dawned with light snow here in Maine and what better way to spend a little inside time than with a Blog Challenge!
This week we will search for our Rhode Island Team members in a bit of a different way - we will spell out "RHODE" with their products. I will start the Challenge with this "RED" walker caddy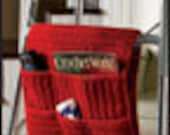 To view all the products included in this challenge, go to the NECTAR Team Challenge page.